What is Maker Camp?
The Grove Church is excited to host Maker Camp this summer!
Here are the basics:
What: Kids will participate in a variety of hands-on projects including woodworking, t-shirt making, cake decorating and more!
When: Monday to Thursday, June 6-9, 6-8pm
Where: The Grove's building at 7027 N Locust St in the heart of Gladstone, MO
Who: Kids going into grades K-8. Separate projects will be organized for the group that is K-2nd grade and for those in grades 3-8.
How much: The cost will be $30 per kid with a max of $60 per family (in the same home).
What else: In addition to lots of fun for kids we're planning a Parent Lounge with refreshments and door prizes.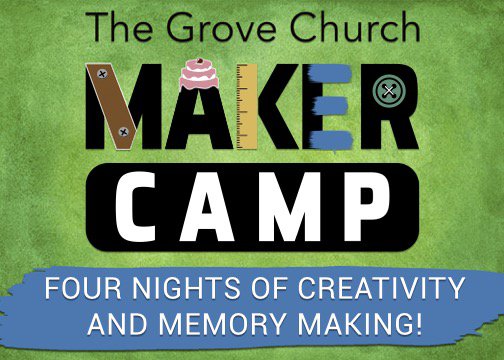 How Can I Come?
Registration is now OPEN so go ahead and reserve your spot! The deadline to register is end of day Monday, May 23.