Description
The Williams family wants to invite you to join them for a beloved family Christmas tradition that lifts our sights to the wonder and goodness of the God who was born to take away the sins of the world.
Behold the Lamb of God is an album by musician/author Andrew Peterson which tells the big story of Christmas. The concert brings together a variety of artists for a two part musical event: In the first half the artists each play a few of their own songs. In the second half they join together to play through the BTLOG songs.
If you're up for a short road trip we'd love to have you join us. You can purchase your tickets at the link below and then RSVP to let us know you're coming and we'll coordinate enjoying the night together.
WHO: Anyone
WHEN: Thursday, December 9, 7pm
WHERE: Fellowship Bible Church in Topeka, KS
COST: Tickets are $15 in advance ($12 for groups of 4 or more)
HOST: The Williams Family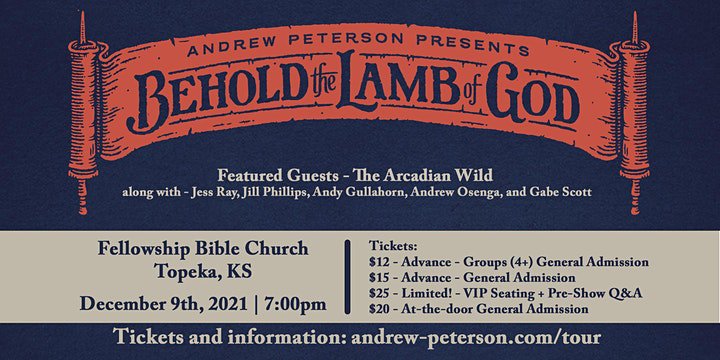 RSVP